Established in 2014, Avanco offers a complete range of solutions to meet the Oil and Gas industry's continuously evolving requirements.
We are dedicated to providing durable and dependable products, built on quality and value, while enhancing on time delivery. Hence, creating unmatched superior energy solutions for Africa's oil and gas industry.
We are committed to continually meeting and exceeding our customers' expectations by adhering to the quality of API and ISO standards.
---
Our Founder – Emmanuel Esele, FICA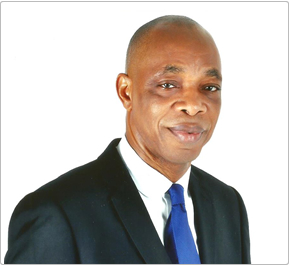 Mr Esele is a confident Oil and Gas man with over 30 years experience. He joined the Nigerian National Petroleum Corporation (NNPC) in December 1980 after completing his youth service the same year.
He was deployed to the Exploration and Exploitative Division (E&E) as a wellsite Engineer involved in Onshore and Offshore Operations.
He retired from the corporation in October 2014 as the Executive Director Operations in one of its subsidiaries, the Nigerian Petroleum Development Company (NPDC) the flagship of the Corporation: At NPDC he was in charge of Drilling, Production/Completion and Gas Development activities with a daily oil and gas production of 130,000bopd and 591.55MMscf/day.
He was Manager Drilling in charge of Offshore and Onshore Drilling Operations in 2012 before his appointment as Executive Director Operations, the same year.
His long stay with the Corporation saw him through various subsidiaries in the corporation, Manager HSE Pipeline and Product Marketing Company (PPMC) between 2007-2012.
Between 2004 and 2007 Deputy Manager Systems Engineering and Deputy Manager Production in NAPIMS where he managed call out contracts for all Engineering of production facilities for the Joint Venture Companies amongst others.
He was Project Engineer Manager of several turnkey projects in NNPC including Brass LNG Conceptual Study Team with Bechtel in Houston, Bonga Field Development Project with ABB Houston USA, the South Offshore Water Injection Project in Middlesbrough United Kingdom and a member of the team that produced the Gas Meter Plan for the country in 2000.
Mr Esele was a pioneer staff of the Nigerian Petroleum Development Company in 1998 where he worked in the Drilling and Petroleum Engineering Departments. In 1998 he was the Chief Petroleum Engineer in charge of the Oredo Flowstation and was briefly the Technical Assistant to the Group Managing Director of the Corporation in 2001.
He holds a Bsc in Industrial Chemistry from the great University of Benin, Benin-City, Master of Business Administration and Post Graduate Diploma in Petroleum Engineering. He is an alumnus of Howard University School of Business, Washington DC; Institut Francais du Petrole (IFP), Paris, France; Shell Petroleum School, Netherlands and London Management Centre, United Kingdom where he took courses on Transformational Leadership and Management Economics.
His dream is to see Avanco become a major player in the Oil and Gas industry in Africa and the world at large.
An active member of the Society of Petroleum Engineers, he is also a member of the American Institute of Mechanical Engineers and a fellow of the Institute of Credit Administration of Nigeria.

---
What makes us Unique
We are not content to continually do things the way it has always been done previously. We believe that there are always better ways to do things, a better way to design and deliver things. Hence, we constantly challenge and improve our supply chain processes as well as our value chain, which has enabled us to execute numerous efficient delivery schedules that are exclusive to us alone. Our products are also made to the highest quality standards and backed by unsurpassed customer service. Leveraging on experience gained over the years from working with operators and turnkey Oil and Gas Companies, we have been able to develop and structure our business around two key principles to improve our efficiency; namely flexibility and responsiveness.
Vision:
Avanco is committed to being Africa's premier energy solutions provider through exceptional operational excellence as well as contributing to Africa's Energy security.
Philosophy:
"The voyage of discovery is not in seeking new landscapes but in having new eyes."
— Marcel Proust
Belief:
We believe that as an oil and gas service provider, we should go beyond the boundaries of providing services and products like every other company. We put our self in the shoes of our clients, striving to sell results not products.
Values:
Our values covers every aspect and discipline of our operations, objectives as well as the implied and perceived culture of our employees, our core values are built upon:
Quality Service
Integrity
Specialised market Knowledge
Efficiency
Cultural Diversity

---
Quality:
We consider quality as the most essential aspect of our business. We identify with the fact that quality leads to product dependability, which transcends to customer trust. We regard our products quality as the foundation of our reputation in the industry and continue our long-standing commitment to maintaining and improving industry quality standard, with this in mind; we operate a corporate quality management system according to ISO and API certifications. This is supplemented by a system of client specific quality plans drawn up to meet detailed customer requirements.
Training & Development:
The difference in Avanco begins from our people. From the very first contact with us either through a phone call or an office walk-in, clients easily spot the difference. We hire the best people as well as provide them with superior training, support and mentoring. Our experienced staff have operated in the most difficult environments while still maintaining excellence in safety and efficiency.
Technology:
The oil and gas industry is driven by technology. Each project is unique, some projects site conditions are more severe, the variation in each condition fosters the need for cutting edge products, we understand this fact and constantly provides cutting edge technology products every time and on time.
Performance:
We are devoted to understanding and surpassing our client's targets with regards to quality, cost, safety as well as environmental goals. Our seamless supply chain solutions are based upon proven and time-tested processes perfected in the widest variety of product and service supply. We have a reputation for our performance that clients know they can count on.
Versatility:
Our product portfolio encompasses one of the broadest arrays of specialized services in Africa's oil and gas industry. We strive to empower our clients by giving them allot of options to choose from. Hence, being able to accommodate specific and budgets friendly needs for any project. With our seasoned staff that have gathered firsthand experience in virtually every major global market, we understand that no site is the same and have the ability to adjust as well as suggest the right product for any environment.
Customer Satisfaction:
We aim to be more than just a superior product supplier, we strive to also be a superior solutions provider for all our products to our clients with our added after customer sales services which is second to none. We place importance not just on managing material sales, but also on "before" and "after service". For us customer satisfaction drives our constant and growing commitment to the oil and gas industries.
Socially Responsible:
It is our policy to be responsive to the collective needs of our clients as well as our areas of operations in order to avoid, reduce or control pollution in our local areas of operation. This has enabled our service provision to be consistent with international standards.

---
Work Force
It is our belief that the long-term success of any company depends heavily upon the quality of its workers and worker loyalty.

 

We treat the economic value of our employees in enhancing customer relationships and company profits as "hard" numbers, the same way we manage our operations, such as the cost of labour.
From engineers, to accountants to clerical staff, we are positioned to be the team that sets the African Industry standard. We also have some of the worlds most modern and efficient equipment. These are only some aspects of our strategy for success. Our strategy for success includes but is not limited to:

 
Well-trained and highly-efficient staff;
Expertise of our close-knit team of international partners;
Our long-standing safety record;
Excellent before and after sales services;
Stringent CSR policies;
Efficient supply chain system;
Commitment to Local Content and
Flawless record of engineering and product performance
That is broadly why we are called upon by Africa's major oil and gas companies to undertake some of the continents largest and most difficult contracts as well as the easy ones.